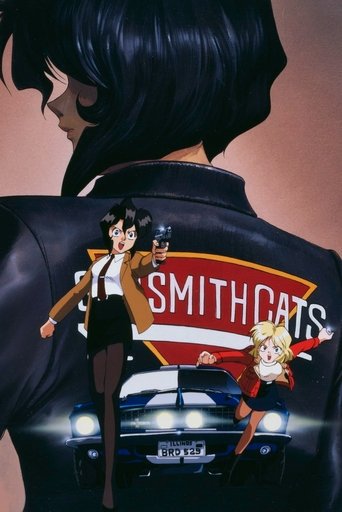 Rally Vincent knows her weapons well, while her partner Minne May Hopkins loves to play with explosives. The pair run a gun-shop illegally and one day Bill Collins of the ATF, blackmails Rally and Minnie May into working for the ATF. Little do they know, that they are getting involved in a mission larger than they could imagine.
Views:

11

Release Date:

1995-11-01

Language:

日本語

Country:

JP

Runtime:

30
Season 1 Episode List
Release Date: 1995-11-01

Expert gunsmith Rally Vincent (slender, curvy, all-business brunette packin' heat) and her maniac side-kick Minnie May Hopkins (short, cute, dizzy blonde explosives nut) are happily running a gun shop and a bounty hunting operation in Chicago, when pony-tailed and hunky ATF Agent Bill Collins saunters into their lives. With a little coercion, Bill leads the Gunsmith Cats on a bullet-riddled mission to bust a ring of gunrunners by setting up a sting on smuggling under-boss Jonathan Washington.

Release Date: 1996-04-01

With Jonathan Washington in the hands of the ATF, it looks like the gun-bust mission is nearly complete - until "The Bloody Pierce," a Russian hitwoman in a bulletproof coat, shows up and starts wiping out evidence. With a rumored mole in the ATF and good guys getting killed left and right, Bill and the Gunsmith Cats are forced to work underground. Working off of a tip they got from Washington, the Cats locate one of the gunrunners' arms storage facilities, but things take a turn for the worse when the guards spot them. Bloody Pierce captures Minnie May and Rally has to race in reckless pursuit to rescue her best friend from being carved up by the sinister Russian.

Release Date: 1996-09-01

The good news is, Bill figures out the house where the ATF mole is. The bad news is, when he gets there, the mole is dead and the house is rigged to blow up. Meanwhile the unsuspecting Gunsmith Cats are on their way to receive a civic award from Senator Haints - where the Bloody Pierce is waiting for them, thirsty for revenge. Can Bill and the Gunsmith Cats figure out who's really behind the gun running operation before the Bloody Pierce kills them all?