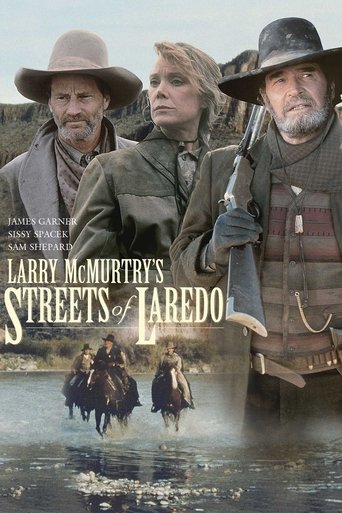 Captain Woodrow Call, now retired from the Rangers, is a bounty hunter. He is hired by an eastern rail baron to track down Joey Garza, a new kind of killer, only a boy, who kills from a distance with a rifle.
Stars:
Writing:
Larry McMurtry
Diana Ossana
Views:

3

Release Date:

1995-11-12

Language:

English

Runtime:

125
Season 1 Episode List
Release Date: 1995-11-12

In this sequel to Larry McMurtry's Lonesome Dove series, Texas Ranger Captain Woodrow F. Call has retired. He is now working as a bounty hunter and is on the trail of a young Mexican train robber named Joey Garza.

Release Date: 1995-11-15

Call finds he has more than just teenage killer Joey Garza to hunt down but the infamous "man-burner" Mox Mox and his gang.

Release Date: 1995-11-15

Woodrow breaks off from his posse to pursue Mo Mo while his men try to capture or kill Joey Garza. Meanwhile Lorena searches for Pea and Joey's mother Maria tries to help her son elude the law.