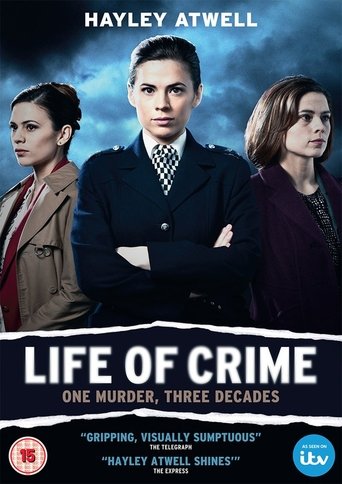 Life of Crime revolves around a female police officer named Denise Woods. Set across a span of three decades (beginning with the Brixton Riots of 1985), the drama follows Denise as she rises through the ranks of the Metropolitan Police Service. She initially struggles in an extremely male-orientated profession where sexism is rife and female officers must fight to be accepted. But as dawn breaks one September morning, Denise accompanies DS Ray Deans to a crime scene to discover the bruised, battered and strangled body of teenager Anna. Having had a previous encounter with the teenager, Denise is determined to bring Anna's killer to justice. Denise works against the clear instruction and advice of her senior officers and follows her own lines of enquiry as the circumstances of Anna's murder aren't what they first appear. As the enquiry progresses Denise's fervor for the case leads her to fall foul of her senior officer, DCI Ferguson.
Writing:
Declan Croghan
Oliver Frampton
Views:

4

Release Date:

2013-05-10

Language:

English

Country:

GB

Runtime:

60
Season 1 Episode List
Release Date: 2013-05-10

The year is 1985 and Denise who is in her early twenties, begins a new life as an WPC for the Met Police, fighting sexism along the way. She is assigned to work with plain clothes Detective Sergeant Ray Deans and, while they attempt to apprehend a suspect, she suffers a knock to the head that sees her in hospital. Whilst there she meets Amy Reid, a fifteen year old girl who's recently come from a club in Brixton called Subotica. Amy has been violently dragged out of the club by her father but made a run for it. After Amy is later found murdered, Denise is determined to see the culprit brought to justice.

Release Date: 2013-05-17

It's 1997 and Denise Woods is now a successful Detective Inspector at Brixton. In an era of 'cool Britannia' and 'Blair's babes' she's ideally placed to climb the ranks, but is struggling to find time for husband Ray Deans and their young daughter. Denise is investigating another rape-murder, this time of a young girl called Lauren Hinds, whose body is found on an estate. Denise's world turns upside down when DNA on Lauren Hinds is cross-checked on the 'all-new DNA database' and matches unknown samples found on Amy Reid back in 1985.

Release Date: 2013-05-24

The year is now 2013 and DCI Denise Woods has managed to turn her life around and is now interviewing for the Superintendent of Lambeth job. Her ex‐husband Ray and his new wife invite her to a 'family' dinner with news that Denise's nineteen year old daughter, Charlotte is going to have a baby. Denise does not take the news well though. At work, she investigates the case of a murdered girl called Joanna Andrews, whose body was discovered the morning after an outdoor concert.