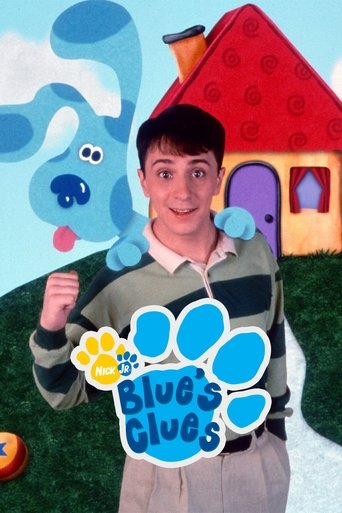 Blue's Clues is an American children's television show that premiered on September 8, 1996 on the cable television network Nickelodeon, and ran for ten years, until August 6, 2006. Producers Angela Santomero, Todd Kessler and Traci Paige Johnson combined concepts from child development and early-childhood education with innovative animation and production techniques that helped their viewers learn. It was hosted originally by Steve Burns, who left in 2002 to pursue a music career, and later by Donovan Patton. Burns was a crucial reason for the show's success, and rumors that surrounded his departure were an indication of the show's emergence as a cultural phenomenon. Blue's Clues became the highest-rated show for preschoolers on American commercial television and was crucial to Nickelodeon's growth. It has been called "one of the most successful, critically acclaimed, and ground-breaking preschool television series of all time". A spin-off called Blue's Room premiered in 2004. The show's producers and creators presented material in narrative format instead of the more traditional magazine format, used repetition to reinforce its curriculum, and structured every episode the same way. They used research about child development and young children's viewing habits that had been conducted in the thirty years since the debut of Sesame Street in the U.S. They revolutionized the genre by inviting their viewers' involvement. Research was part of the creative and decision-making process in the production of the show, and was integrated into all aspects and stages of the creative process. Blue's Clues was the first cutout animation series for preschoolers, and resembled a storybook in its use of primary colors and its simple construction paper shapes of familiar objects with varied colors and textures. Its home-based setting was familiar to American children, but had a look unlike other children's TV shows. A live production of Blue's Clues, which used many of the production innovations developed by the show's creators, toured the U.S. starting in 1999. As of 2002, over 2 million people had attended over 1,000 performances.
Stars:
Writing:
Todd A. Kessler
Angela Santomero
Jeff Borkin
Views:

3

Release Date:

1996-09-08

Language:

English

Runtime:

30
Season 7 Episode List
Release Date: 2006-07-27

From the people who bring you VH1's "Behind the Music" this retrospective looks back on ten years of Blue's Clues. The program details the show's secrets to success, the creation of Blue and more. It also features backstage info on Steve (Steven Burns) and Joe (Donovan Patton) and commentary from various celebrities and experts. Viewers receive a look at the early creation of the show, which initially featured a cat known as Mr. Orange. The program also tackles the exit of Steve, along with the various rumors surrounding his departure.

Release Date: 2006-08-06

Viewers are invited to celebrate the tenth anniversary of Blue's Clues as Blue becomes a big sister when she searches for her baby brother. For the first time ever, the characters of Blue's Room are together with many of the characters from the original Blue's Clues. As they gather together for a family party, Blue has a big announcement. She has a baby brother, but she isn't sure who he is. She and Joe skidoo off to Puppyville to find him. There, they learn while there are many puppies there who could be Blue's brother, they'll have to play a special game of Gold Clues (which also includes a golden Notebook and golden Thinking Chair) to find out just who Blue's brother is. As they being their search through the many areas of Puppyville, they meet a small, white puppy named Sprinkles. Sprinkles is young and still has a lot of things to learn --- such as the alphabet and his colors. He finds that each time he learns something new, with our help, he gains a new set of colorful spots.